The Crop Science Society of America (CSSA) is the professional home for 5,500+ members dedicated to advancing the field of crop science. Society members are dedicated to the conservation and wise use of natural resources to produce food, feed, fiber, fuel, and pharmaceutical crops for our world's growing population while maintaining and improving the environment.
---
Become a Member

Considering membership in CSSA?  Visit our Become a Member page to learn all about the benefits of connecting with crop scientists around the world.
---
For Members
Membership in CSSA opens so many doors - from publishing and sharing research, to connecting with colleagues and students, from getting involved and giving back, to extending your voice to advocacy and meeting the challenges of the 21st century. View our For Members section for easy access to all of your membership benefits.
---
For Students

CSSA allows students to network, present their research, and establish the relationships that will guide their careers.  Learn about all the programs and opportunities designed especially For Students.
---
Get Involved

Volunteerism is widely recognized for its leadership-building capabilities and as a positive addition to one's curriculum vitae. Get Involved and the networking connections you'll make can lead to research partnerships, job advancement, lifelong friendships, and personal fulfillment and recognition.
---
CSSA Divisions of Interest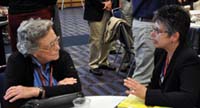 CSSA offers specialized Divisions of Interest, giving you the opportunity to develop focused peer networks around topical areas to gather members, encourage scientific exchange and sharing of information, facilitate planning, enhance communication, and provide coordination of programs.
---
Corporate Members

Our Corporate Members are partners with the Society - realizing benefits and developing cooperative relationships with the Societies and members.
---
Find a Member

There are many options for connecting with members and a variety of Member Directories to assist you.
---
About CSSA
The Crop Science Society of America (CSSA) is a progressive international scientific society that fosters plant science for a better world. CSSA supports its members by providing peer-reviewed publications through the Digital Library, educational programs, scientific meetings, recognition and awards, career services, student activities, and science policy initiatives. Learn more About Us.