Seed Physiology, Production and Technology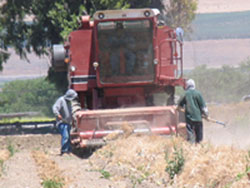 CSSA offers specialized Divisions of Interest, giving you the opportunity to develop focused peer networks and information resources. Via the divisions, members present papers at the Annual Meetings and participate in the business meetings. The divisions may also host listservs, web pages and newsletters. As a division member, you can also guide the division direction by participating in elections and serving through leadership opportunities. As a CSSA member, you may belong to as many CSSA Divisions of Interest as you would like.
Division C04 of the Crop Science Society of America focuses upon seed development, maturation, germination, and metabolism; preparation of useful plant types through foundation, registered and certified seed; preservation of viability.
Increasing demand for seed as biofuel feedstock coupled with a need to feed a burgeoning global population makes seed science and technology an essential discipline for human survival and prosperity.   Cereal production alone will have to increase by roughly a billion metric tons in the next 30 years to meet world needs. To meet future world needs for food, fiber and energy, additional research advancements in seed genetics and technology will be critical. Sharing expertise on seed production technologies and research through distance learning will be a prerequisite for meeting the global demand for quality seed.
Announcements
Deadline for Annual Meetings Approaching
Don't get caught by surprise. Take a minute today to get registered for the ASA, CSSA, and SSSA annual meetings to be held in Phoenix, AZ in November 6-9, 2016.
Annual Meeting C-4 Division Programs
Symposium:  
Seed Production and Field Performance in Relation to Seed Quality
Monday, November 7, 2016: 1:30 PM-3:10 PM
Phoenix Convention Center North, Room 226 A
Business Meeting:
Monday, November 7, 2016: 3:10 PM-4:10 PM
Phoenix Convention Center North, Room 226 A
C-4/C-2 Graduate Student Poster Competition
Monday, November 7, 2016: 4:00 PM-6:00 PM
Phoenix Convention Center North, Exhibit Hall CDE
View sessions and symposia by Division:
C01 Crop Breeding & Genetics
C02 Crop Physiology and Metabolism
C03 Crop Ecology, Management & Quality
C04 Seed Physiology, Production & Technology
C05 Turfgrass Science
C06 Forage and Grazinglands
C07 Genomics, Molecular Genetics & Biotechnology
C08 Plant Genetic Resources
C09 Biomedical, Health-Beneficial & Nutritionally Enhanced Plants
Division Activites
Advances in seed science and technology are occurring at a rapid rate.  Keeping up with these changes requires continuing education programs for existing industry employees and up-to-date training programs for new employees.  The training of seed industry professionals is challenging because of logistical as well as time and financial constraints.  Seed courses offered by Land Grant universities are scattered around the country, further complicating the problem of employee training. To satisfy the growing demand for seed educational programs, both nationally and internationally, distance learning seed biology and technology courses, degree programs, and certificate programs are offered by several US universities.  Many of these efforts have come from members of the C-4 Division of CSSA (Seed Physiology, Production, and Technology).
We summarize some of the innovative distance learning courses and programs that have been developed to satisfy the demand for seed industry training.  Additional training programs are available from private groups but this summary focuses on programs offered by Land Grant Universities through distance education.
Contact the Officers
C - Div. C-4, Seed Physiology, Production, and Technology Officers
This committee accepts volunteers: No
Chair, Div. C-4
Sabry Elias 
Term: Jan 01, 2016 - Dec 31, 2016
Oregon State University
The Seed Laboratory
3291 Campus Way
Corvallis OR 97331 USA
Tel: 541-737-4799
Email: sabry.elias@oregonstate.edu
Chair-Elect, Div. C-4
Christina Walters 
Term: Jan 01, 2016 - Dec 31, 2016
USDA-ARS
Natl Lab for Genetic Resources Preservation
1111 South Mason St
Fort Collins CO 80521 USA
Tel: 970-492-7601
Email: Christina.Walters@ARS.USDA.GOV
Div. C-4 Bd. Rep.
Stephen Malone 
Term: Jan 01, 2014 - Dec 31, 2016
USDA-AMS-LPS-SRTD
801 Summit Crossing Place, Suite C
Gastonia NC 28054 USA
Tel: 704-810-8888
Email: stephen.malone@ams.usda.gov
Past Chair, Div. C-4
Marc Cohn 
Term: Jan 01, 2016 - Dec 31, 2016
Louisiana State University
Department of Plant Pathology & Physiology
302 Life Science
Baton Rouge LA 70803 USA
Tel: 225-578-1464
Email: mcohn@lsu.edu